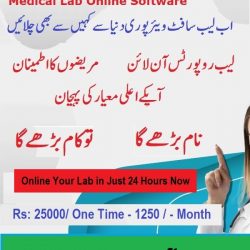 کیا آپ چاہتے ہیں ۔ آپ پوری دنیا سے اپنی لیب کو کسی بھی موبائل یا کمپیوٹر سے مکمل طور پر چلا سکیں ۔ مریضوں […]
Welcome to our Web site!
List Your Classified Ads
We are your #1 classified ad listing site. Become a free member and start listing your classified ads within minutes. Manage all ads from your personalized dashboard.
Join Now!
About Us
We are one of the fastest growing free classified Ads publishing website in Pakistan. You can place free Ads on our website and start selling.